Whitespectre x Onja: Bridging the Opportunity Gap in Tech
Sandy Raveloarisoa grew up in a small village in Madagascar with no internet access. She also just concluded a successful 1-year frontend fellowship at Whitespectre. Sandy came to Whitespectre as a graduate of Onja, an innovative social enterprise with a mission to bridge the opportunity gap in Tech. Read more to learn more about our partnership with Onja, Sandy's journey, and her exciting year at Whitespectre.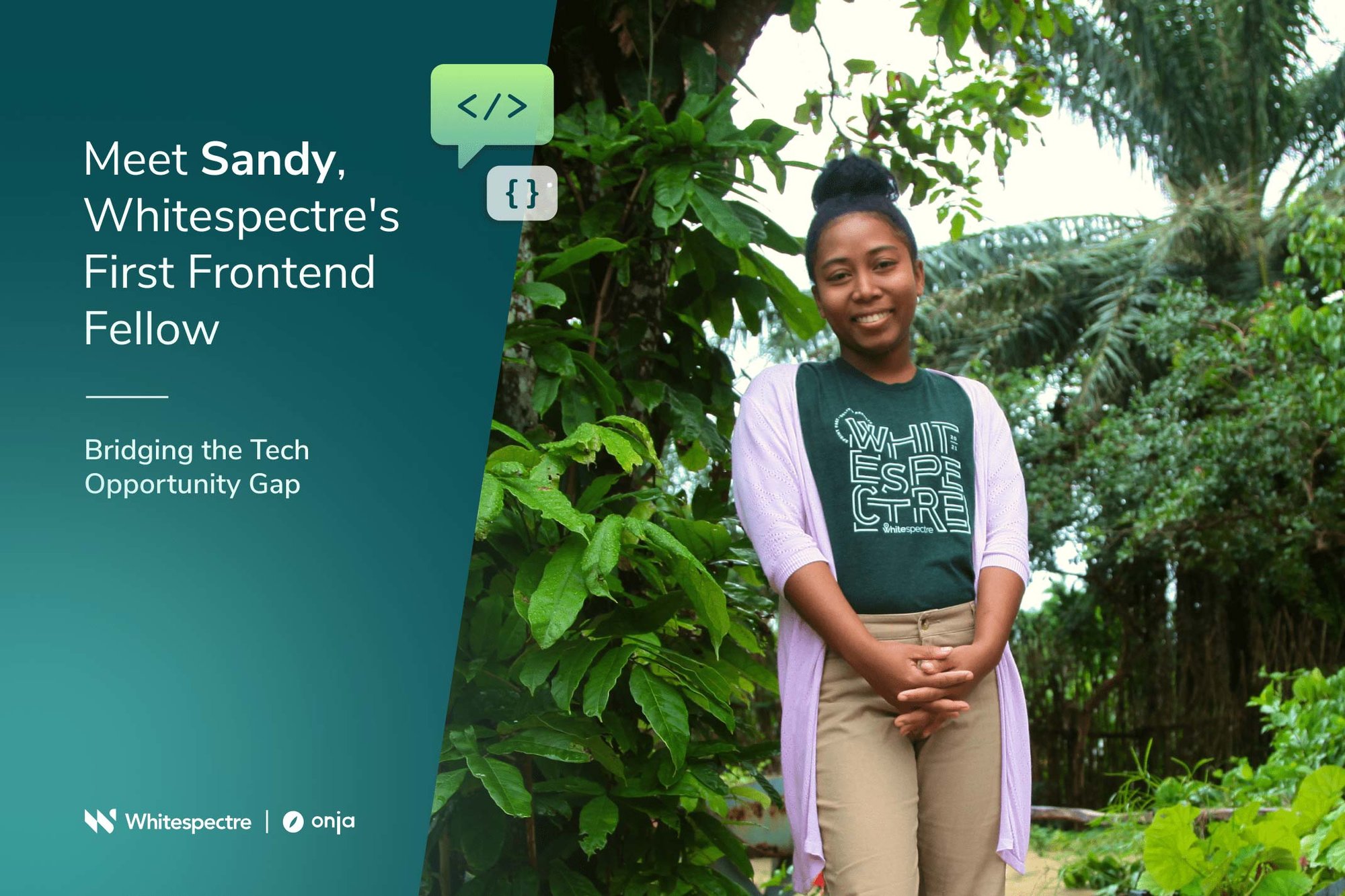 Talent is everywhere. As a company with skilled technologists located across the world, we demonstrate this every day. Opportunity, however, is not. Young people from underserved communities, particularly girls, often lack the resources, training, and connections needed to seed a career in engineering.
At Whitespectre, we continuously see the consequences of that when reviewing our recruiting pipeline. It's a hard problem to solve, but one we also believe is critical to address.
That is why this year we were excited to partner with Onja, an innovative social enterprise that's helping to bridge the opportunity gap. Located in Mahanoro, a quiet beach town on Madagascar's East Coast, Onja assesses the top 1% of students in Madagascar who can't afford higher education. They then select those with exceptional work ethic and character to undertake a highly intensive two years of study to become professional software developers.
Recently, Sandy Raveloarisoa, a 21-year-old Onja program graduate, completed her 1-year stint at Whitespectre as a frontend engineer fellow. Over the year she further developed her engineering skills and agile experience by working with the team on a diverse set of software projects.
Sandy shares, "Whitespectre has a great team made up of different people from different countries with different cultures. One thing I found unique about Whitespectre is that they also help the team improve personally and professionally through regular sharing and feedback sessions. I also really appreciate the fact that I have mentors across my projects that always support me and are there whenever I have a blocker, which helps me learn faster.".
This initiative highlights the potential of promising young people from underserved communities to launch a successful career in tech - especially when they have the opportunity to do so. Our leadership team and Onja's founder share:
"As a global company, Whitespectre is made up of highly skilled individuals from different backgrounds, united in our continuous desire to learn and contribute. When we began speaking with Onja, we realized we were in a unique position to provide a challenging and supportive work environment where driven, talented Onja graduates could take a major leap forward in their engineering career. It's been fantastic seeing Sandy demonstrate that over the year she's been with us. She's made a positive impact on every project she's been a part of and has grown tremendously as a developer." - Allison Kellman, CPO, Whitespectre
"It's been a great pleasure partnering with Whitespectre. We have been so proud to see Sandy quickly become such a valued, liked, and successful member of a world-class tech team and impressed by what she has managed to deliver over the past 12 months. We are also very thankful that Sandy has been able to learn so much from her experienced peers, and thrilled that Whitespectre has been able to so strongly share in our mission to bring real careers to Madagascar's talented and underprivileged youth. We atOnjawelcome any future collaboration with open arms!" - Sam Lucas, Founder, Onja
Learn more about Sandy and her experience with Whitespectre:
Hello! I'm Sandy and I'm 21 years old. I've been in the tech world for about 2 years now and I recently spent a year as a frontend engineer fellow at , where I worked on three exciting projects. I'm from Antanandave, a small village on the East coast of Madagascar. In my free time, I love playing football with my friends and visiting places that have attractive views.
How did you get into tech as a young person from a remote village?
In my village, I had no access to the Internet and no idea about the tech world or the opportunities it holds.
I was introduced to tech by Onja, which came into my life unexpectedly. I received an invitation from them through my former high school because I was in the top 1% of my peers. I joined hundreds of other students from my region who also received an invitation to undergo Onja's entrance interview and test. It took about a year before I heard back from them as they conducted the same process in other regions in Madagascar.
Thankfully, I passed the interview and test, so I was invited to join a 2-week camping trip to Mahanoro, a quiet beach town on Madagascar's east coast where Onja is based at the moment.
That was the first time I traveled that far away from my village. There were about 90 of us who joined the camp, and at the end of it, Onja took on just 30 of us. Fortunately, I was one of them.
I officially joined Onja in January 2019. The first year, we spent the entirety of it learning English as I didn't speak any English at all before then. During the learning process, we had different levels of English exams and we had to study hard, but in the end, we made it to the C1 English level, which is an advanced level where learners are able to understand and speak English fluently.
How did you build up your experience before working with Whitespectre?
I started my programming course at Onja in January 2020. It was challenging knowing that it was my first time using a computer, but at the same time, it gave me the motivation to improve. We spent the whole year doing various web project assignments with different technologies. Later in 2021, I worked on an open-source project on GitHub for about 3 months to train myself to work on a big project with a lot of team members.
In June 2021, I started taking interviews to find a position that suits my skills and helps me improve them because I want to become a successful developer in the future. I got my first internship in September with a non-profit organization called
That is when I was connected with Whitespectre. I had a technical interview with a Tech Lead at Whitespectre as the first part of the hiring process and a coding assignment that I needed to finish in 2 days.
The good news was that Whitespectre was willing to hire me and get me trained to move further into the professional world. I met Nick, Whitespectre's CEO before getting started with the onboarding process. I officially started working at Whitespectre in November 2021.
Tell us about your experience working with the Whitespectre team. What has that been like for you?
Whitespectre has a great team made up of different people from different countries with different cultures. One thing I found unique about Whitespectre is that they also help the team improve personally and professionally through regular sharing and feedback sessions.
I really appreciate the fact that I have mentors that always support me and are there whenever I have a blocker, which helps me learn faster. I also feel that its well-structured working environment - where we have a set process and approach - helps boost self-discipline.
In my time with Whitespectre, I was able to be involved in several projects that allowed me to hone my engineering and communication skills. It was a very supportive team across all projects.
Most recently, I got to join the team working on a large plant-based food delivery platform. There, I worked closely with my mentors - Eneko and Hugo. It was a great experience working with both new team members and new technologies. The project included work like migrating the logged in experience to React and upgrading its tech stack, which included Rails. I was able to contribute to not only the frontend tasks but also some backend ones as well.
What does a typical day look like for you at Whitespectre?
I work on my regular tasks during each sprint, which we have every 2 weeks. I start my day by letting everyone know that I'm connected and available for any call or message.
In the morning, I'm mostly coding and answer messages on Slack. After lunch, I join a regular daily meeting for the group where we discuss what everyone is doing. Then I continue with my day by coding and grooming cards before signing off at the end of the day.
Throughout the week, I have different meetings with my mentors like Allison and Dani to get feedback and answer any questions I have. I also have a 1:1 meeting every two weeks with Ines, my team's Delivery Manager; Eneko, my coding mentor; and Alex, my growth mentor.
Now that your 1-year fellowship with Whitespectre has come to an end, what's next?
At the moment, I'm still aiming to gain more experience working with React, Next.js, Typescript, and React Native. I'm going to focus on being able to work fluently with those technologies, while also digging deeper into backend development as a long-term goal. In terms of other skills, I'm going to further improve my communication skills as it's one of the keys to being a great software engineer.