A Day in the Life of Ana Babac, React Native Engineer
Ana shares her evolution from full stack to front-end engineer, working at Whitespectre on different software projects, and striking a balance between her many hobbies and training her playful Border Collie pup, Cora.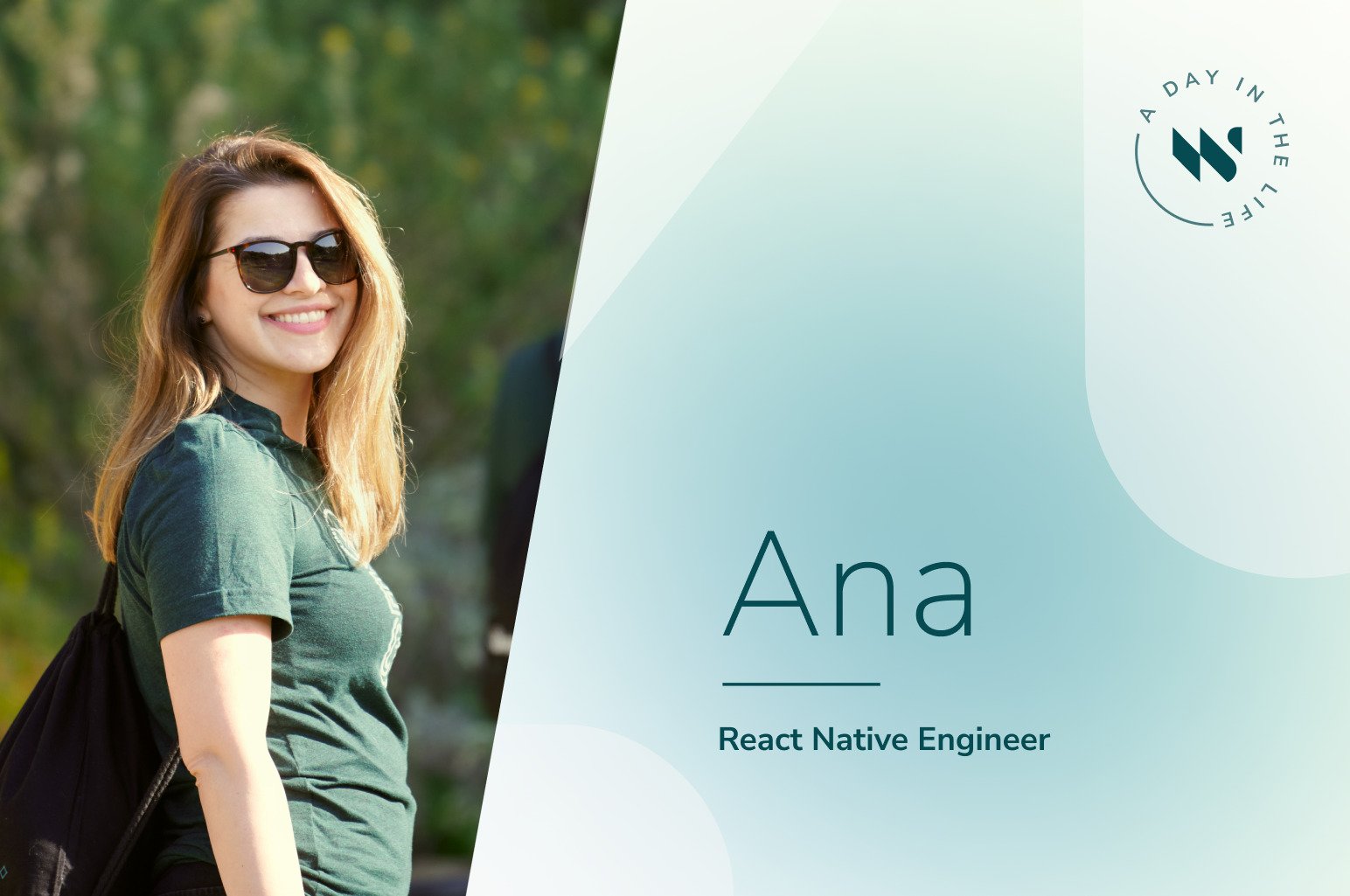 This article was co-written by Mateo Arizcorreta and YeeLin Thum.
Meet Ana Babac, a passionate React Native Engineer at Whitespectre who hails from the picturesque Podgorica, Montenegro. Ana's life is an inspiring blend of technical prowess and a deep appreciation for the nature that surrounds her remote workspace. She joined Whitespectre in 2021, where she's been involved in developing a React Native app from scratch, enhancing site UX to drive conversions, and migrating an eCommerce platform using React and Next.js.
Key highlights in this interview:
How did you get into front-end development?
Well, I started my career in software development a decade ago. My initial path was more broad as things weren't as siloed as they are now. Starting as a full-stack developer was great in hindsight because now I fully understand how software products work.
As I progressed, I grew passionate about implementing pixel-perfect design, where every detail matters. The challenge of blending creativity with performance is something I enjoy, as well as moments where I could say "I made this!".
My path into the field was actually quite serendipitous. I was good with numbers in high school, so I thought the only options for me were going to law or economics school. Then my best friend introduced me to Computer Science, which I didn't even know was a career option. There weren't as many female developers back then. So while in university, I encountered comments like: "Are you sure that you want to do that?". Luckily, the industry has evolved. There's still some gender imbalance, but it's encouraging to see all the progress we've made. Now, tech is attractive to everyone, and women being interested in STEM is no longer unusual.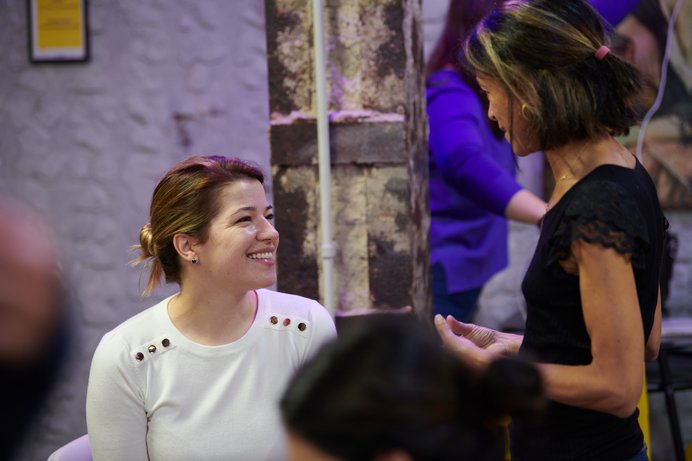 How long have you been with Whitespectre and what projects have you worked on?
I joined Whitespectre in July 2021. My focus for the first two years was working as a React Native Engineer on the Merryfield project, developing their app.
Merryfield was first developed as a native iOS app, and then I was part of the team that developed the Android version from scratch in React Native. Later, after reaching feature parity between the two platforms, we switched the iOS app from native to React Native. Now we maintain one project and support the two platforms.
The process was fun, I learned a lot, and I identify with Merryfield's product vision, which is essential to me because working on a project you stand behind feels good. It's not just "cool code and technology". For me, it's also about supporting a platform that promotes green culture, and to whose core values you relate to.
Since the Merryfield project, I've gone on to work on the SpotOn virtual GPS fence project for half a year on the web side of things. There, my focus was on enhancing the site's UX to drive conversions. Next, I'll be shifting my focus to an eCommerce platform project working with React and Next.js. I'm excited to be working with that stack again.
What was it like collaborating with your Whitespectre teammates on the Merryfield project?
From a technical perspective, having senior engineers like Jefferson and Federico as leaders helped me improve my React Native skills. Then, speaking more about the day-to-day, I learned the importance of a supportive and collaborative environment in contributing to a project's success.
We all have our defined roles, and at the same time, we are very connected to each other. I think it has a lot to do with our process and having teammates and leads who are very senior but who are also down to earth, ready to help, always up to collaborate, and who respect everyone's opinion.
I also think that the cultural diversity at Whitespectre, with members from India, Egypt, Brazil, Argentina, and the UK, enriches this dynamic. However, I must say that it's crucial to be aware of cultural nuances when it comes to communication. Reading 'The Culture Map' in Whitespectre's book club was an eye-opener for me in this regard. Although we're spread out around the world, I feel quite fortunate to have had the chance to meet most of them in person during one of our company meetups in Barcelona. We were able to strengthen our team bond and connect on a more personal level.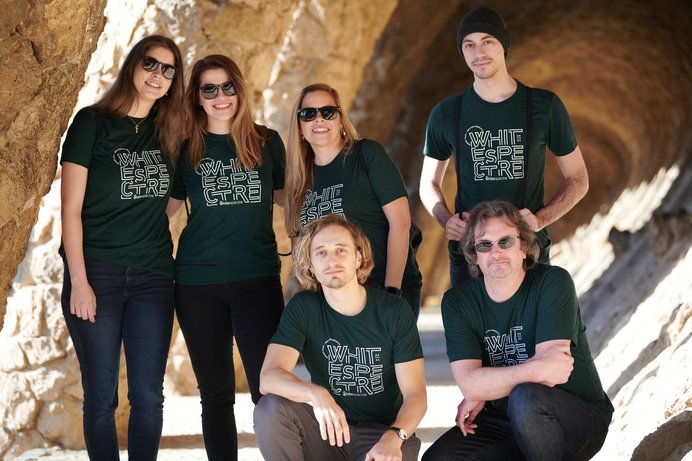 What was the meetup experience like?
Oh, the meetup was great! We worked together at a coworking space, went sightseeing around the city, and shared lots of meals over great conversations. There were even some tears at the end.
After working together remotely through a computer screen, meeting my colleagues in person felt like meeting characters from a TV show. The connection was immediately very human and fun. It was helpful because we were going through some changes in our team at the time, so the meetup sped up the process of getting to know our different working styles and thought processes.
And what does the rest of your day look like when you're not coding?
Most of my time now is spent training Cora, my 6-month-old Border Collie puppy. She's a very cute bundle of energy and joy. Besides that, I have a lot of interests that keep me busy. It feels like I don't have enough time for all of them!
I started doing morning yoga, which is great because I'm not a morning person. It makes me get up in the morning and start my day on a more positive note. My main hobby is contemporary ballet. I've been a member of a dance company called "Ballo" since I was 16. I also like hiking, camping, snowboarding, painting, reading books, board games... the list goes on.
As you can probably tell, nature is an important part of my life. I'm lucky that the building where I'm currently renting my apartment with my fiancé is just next to one of the hills in Podgorica that has lots of trees and trails. Keeping a balance between spending time in nature, engaging in physical activities, and doing creative stuff (not in front of the screen), is key to my routine these days.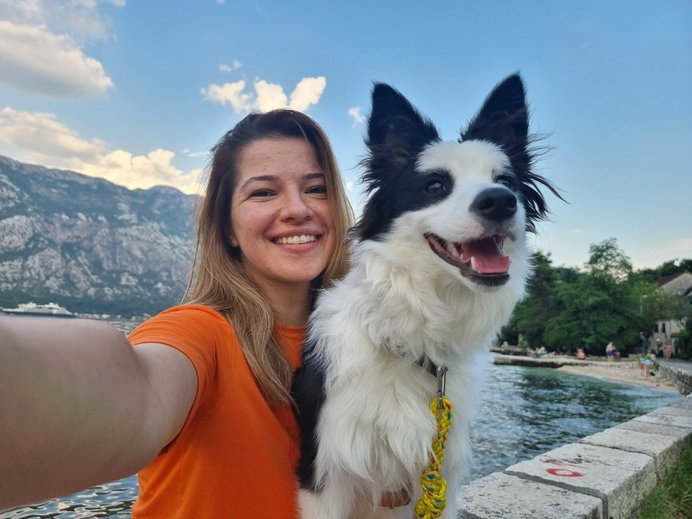 Finally, what's next for Ana Babac at Whitespectre?
My journey has been quite exciting so far, working on a lot of different projects. You know, this is what I appreciate about Whitespectre. They do their best to match you with projects that align with your interests and skills so you can immerse yourself in interesting challenges. We also have a well-structured and highly efficient methodology here. This ensures smooth communication and a clear understanding of what everyone needs to do to meet our goals. It makes it very easy to get onboarded and hit the ground running, even when you join different projects and delivery pods.
Now speaking as a front-end developer, my goal is to keep gaining more experience and expertise in this domain and stay updated with the latest trends and technologies. Recently, I've investigated the possibilities and limits of AI tools for everyday coding. I don't believe they will take over our jobs as software developers, but they can serve as valuable partners in optimizing certain areas of our work. This is definitely an exciting time for our industry.
In the long run, I hope to keep contributing to great projects and keep learning as much as I can. I love collaborating with my team and sharing my knowledge with them. I prefer getting hands-on with projects and working closely with others. So in the future, I can see myself taking on a mentoring role where I can guide and support other developers.